Madonna quer pistas fervendo com "Finally Enough Love", nova coletânea de remixes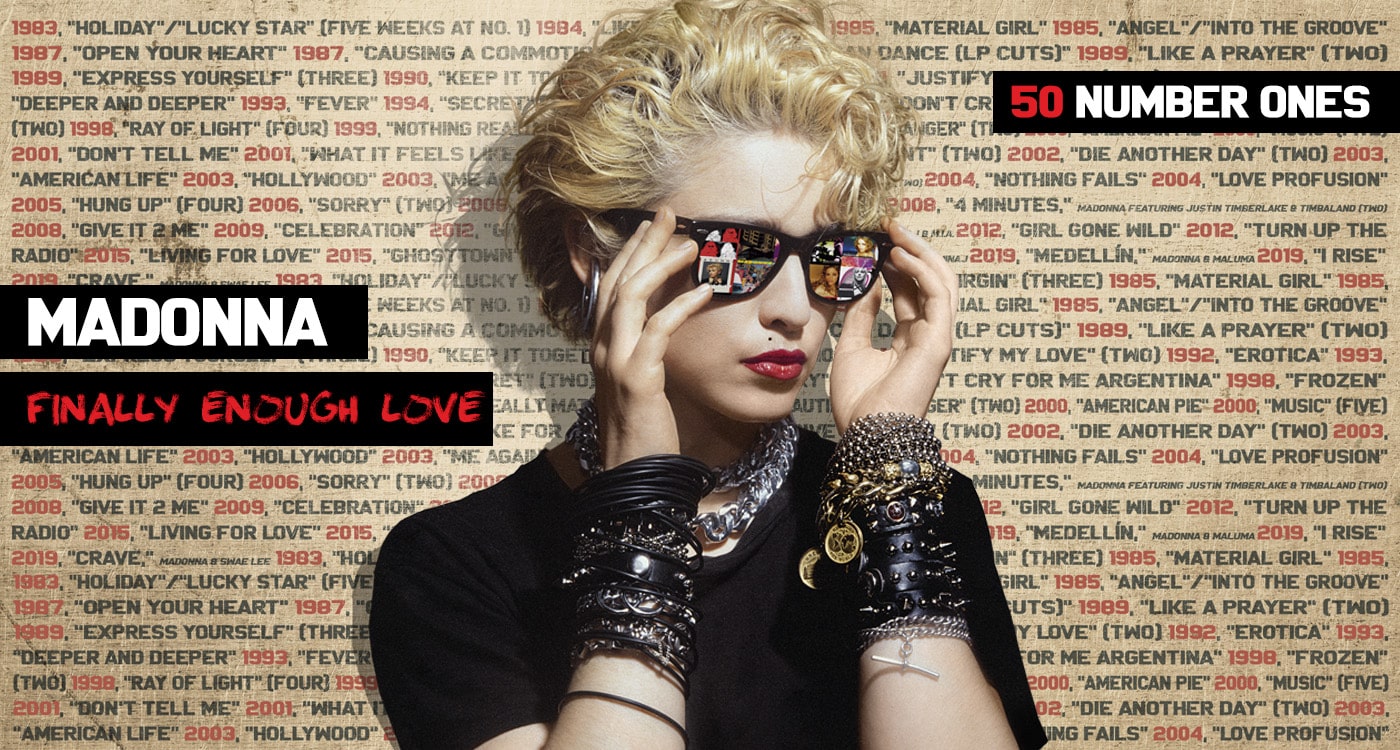 Dance and sing, get up and do yout thing! Madonna é mesmo a rainha das pistas e não à toa possui mais de 50 entradas na Billboard Dance Chart. Para celebrar o feito, conquistado em 2019 com o álbum "Madame X", a artista decidiu fazer uma curadoria de grandes remixes da carreira e selecionar algumas novidades.
Esse passeio por uma das obras mais consistentes da história do pop está disponível a partir desta sexta-feira (24) na coletânea "Finally Enough Love". Em diferentes versões físicas e digitais, o projeto transita desde "Everybody", single de estreia, atravessando projetos canônicos como "Vogue", "Deeper and Deeper" e "Frozen", até chegar a "I Don't Search, I Find". É ela a faixa que ostenta o verso-título da reunião.
É pra apreciar e prestar reverências! O mundo nunca mais foi o mesmo depois de Madonna, né? Sextou, meus amores! Bora dar play? Sobe o som aí!
O projeto marca o início da parceria recém-anunciada entre a cantora e a Warner Music Group, que promete uma extensa série de lançamentos de catálogos ao longo de sua carreira. Abaixo, você confere a tracklist completa do super box físico, que traz exatamente os 50 hits que a artista emplacou na parada.
"FINALLY ENOUGH LOVE: 50 NUMBER ONES"
"Holiday" (7" Version) +

"Like A Virgin" (7" Version)

"Material Girl" (7" Version)

"Into The Groove" (You Can Dance Remix Edit) +#

"Open Your Heart" (Video Version) +

"Physical Attraction" (You Can Dance Remix Edit) +#

"Everybody" (You Can Dance Remix Edit) +#

"Like A Prayer" (Remix/Edit)

"Express Yourself" (Remix/Edit)

"Keep It Together" (Alternate Single Remix) *+

"Vogue" (Single Version) +

"Justify My Love" (Orbit Edit)

"Erotica" (Underground Club Mix)

"Deeper And Deeper" (David's Radio Edit) +#

"Fever" (Radio Edit) +

"Secret" (Junior's Luscious Single Mix)

"Bedtime Story" (Junior's Single Mix)

"Don't Cry For Me Argentina" (Miami Mix Edit)

"Frozen" (Extended Club Mix Edit)

"Ray Of Light" (Sasha Ultra Violet Mix Edit) +#

"Nothing Really Matters" (Club 69 Radio Mix) +

"Beautiful Stranger" (Calderone Radio Mix)

"American Pie" (Richard 'Humpty' Vission Radio Mix)

"Music" (Deep Dish Dot Com Radio Edit)

"Don't Tell Me" (Thunderpuss Video Remix) +#

"What It Feels Like For A Girl" (Above And Beyond Club Radio Edit)

"Impressive Instant" (Peter Rauhofer's Universal Radio Mixshow Mix) +#

"Die Another Day" (Deepsky Radio Edit) +#

"American Life" (Felix Da Housecat's Devin Dazzle Edit) *+

"Hollywood" (Calderone & Quayle Edit) +#

"Me Against The Music" (Peter Rauhofer Radio Mix) + – Britney Spears feat. Madonna

"Nothing Fails" (Tracy Young's Underground Radio Edit) *+

"Love Profusion" (Ralphi Rosario House Vocal Edit) +#

"Hung Up" (SDP Extended Vocal Edit)

"Sorry" (PSB Maxi Mix Edit) +#

"Get Together" (Jacques Lu Cont Vocal Edit) +

"Jump" (Axwell Remix Edit)

"4 Minutes" (Bob Sinclar Space Funk Edit) + – feat. Justin Timberlake & Timbaland

"Give It 2 Me" (Eddie Amador Club 5 Edit) +#

"Celebration" (Benny Benassi Remix Edit)

"Give Me All Your Luvin'" (Party Rock Remix) – feat. LMFAO & Nicki Minaj

"Girl Gone Wild" (Avicii's UMF Mix)

"Turn Up The Radio" (Offer Nissim Remix Edit) *+#

"Living For Love" (Offer Nissim Promo Mix) *+

"Ghosttown" (Dirty Pop Intro Remix)

"Bitch I'm Madonna" (Sander Kleinenberg Video Edit) +# – feat. Nicki Minaj

"Medellín" (Offer Nissim Madame X In The Sphinx Mix) – Madonna and Maluma

"I Rise" (Tracy Young's Pride Intro Radio Remix)

"Crave" (Tracy Young Dangerous Remix) – feat. Swae Lee

"I Don't Search I Find" (Honey Dijon Radio Mix)